Home
-
Products
-
Long Oil Gauging Tape
15m-50m Long Steel Tank Sounding Oil Tape Measure with Ground Wire
Item: LOMT-X01
Product Name: 15m-50m Long Steel Tank Sounding Oil Tape Measure with Ground Wire
Eastern is a professional factory specialized in manufacturing wide range of oil gauging tapes, plumb bobs, and accessories.
Ground wire length: 1.2m.
Material: ABS handle, aluminium case flame, steel tape, brass drop.
Color: white aluminium flame, black ABS handle.
Specification: 10m/33ft, 15m/50ft, 20m/66ft, 25m/83ft, 30m/100ft, 50m/165ft.
Logo: Eastern. accept OEM.
Three types of blade:
a) Polymer resin painted stainless steel tape blade in white color.
b) Black oxide stainless steel tape blade (black etched blade).
c) Stainless steel etched tape blade.
Standard drop (plumb bob): S24mm hexagonal brass bob, weight 350g. brass drop (brass weight), also make the drop according to customer's inquiry.
Two side graduation tape blade, one side is MM graduation and another side is inch graduation.
Heavy duty aluminium frame.
Material of stainless steel tape is 0.20mm, material of white and black tape is 0.18mm.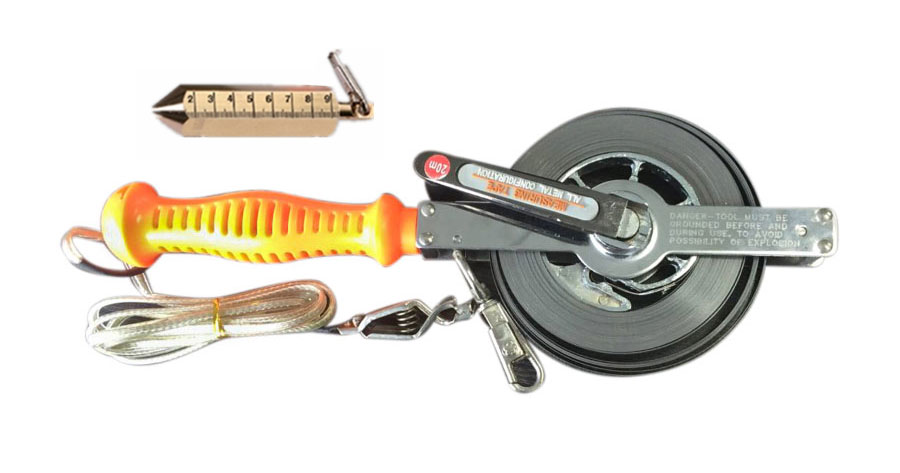 Features of Long Steel Tank Sounding Oil Tape Measure with Ground Wire
Eastern oil gaugeing tapes are strong and durable with a corrosion resistant frame. The frames come with safety handle with grounding wire and clip.
Easy operation.
The oil tapes with black oxide blade and stainless etched blade are oil and acid resistant.
The oil gauging tapes made of stainless steel have accurate calibration and strong corrosion resistance.
Oil gauge tape blades have an abrasion and chemical resistant coating.
Anti-static materials are used for ruler frame, handle, core wheel and ruler drop.
| | | |
| --- | --- | --- |
| | | |
| The core of the oil measuring tape, back cover, crank, and handle are all metal. The shake handle part use all metal anti-expansion system, and recycle blade is fast and smooth. | The oil gauging tape is equipped with an electrostatic discharge wire. | The hook of the plumb bob and the connecting point of the tape blade can rotate freely and does not get stuck, and the plummb bob digital scale is clear. |
Blade Types Available for Eastern Oil Sounding Tapes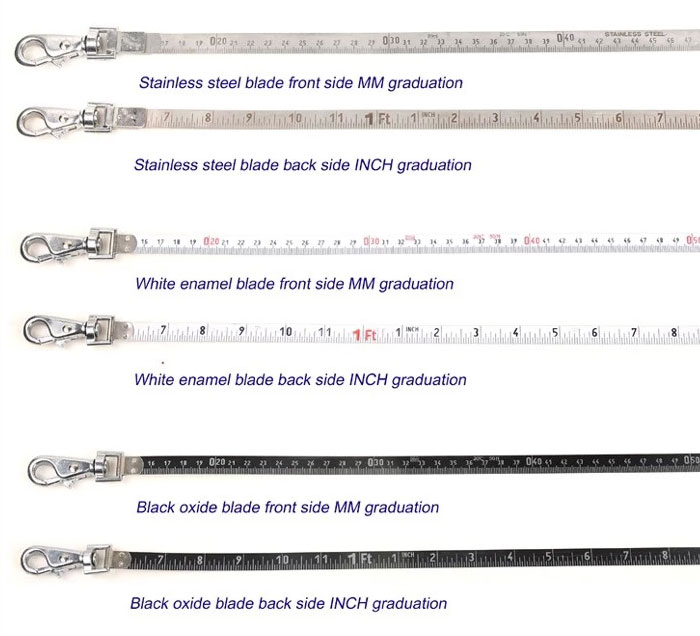 | | | |
| --- | --- | --- |
| | | |
| White or Yellow Polymer Resin Painted Stainless Steel Blade (Lacquered Steel Blade) | Black Oxide Stainless Steel Blade (Black Etched Blade) | Etched Stainless Steel Blade |

Read More information about Oil Tape Blade
Flat or Sharp Brass Drop (Copper Weight, Plumb Bob) for Oil Gauge Tapes
Plumb bob material: stainless steel or brass (copper) , Drop shape: flat or sharp hexagonal.
Application of Oil Sounding Tape Measure
Explosion-proof oil tank measuring gauging tape are widely used for oil mining industry
Oil tape is suitable for measuring the liquid level height or depth of petroleum and other liquid products in various containers, such as oil tankers and oil storage tanks. It is also suitable for measuring the depth of water level at the bottom of containers.
Package for Oil Gauging Tape
One piece in plastic bag, then in a color inner box, 10pcs in one export carton.
Specification
Packing Information
Qty/ctn
G.W./N.W(kgs)
Meas.(cm)
15m/50ft
20
22/20'
47x33x27.5
20m/66ft
20
24/22'
47x33x27.5
30m/100ft
20
27/25'
47x33x27.5
50m/165ft
20
35/33'
47x33x27.5
| | |
| --- | --- |
| | |
| Accuracy of Oil Measuring Tape | Package of Oil Gauge Tape |
Innage Oil Gauging Tapes and Outage Oil Gauge Measuring Tapes
There are 2 oil tapes to manually measurre the level of liquids in a large container using an oil gauging tape – Innage or Outage.
There are three basic operations that are conducted by tank gauging tape:
How much liquid is already in the container? (Innage)
How much more liquid can be put in the container? (Outage)
When the liquid is oil, how much water has displaced oil in the bottom of the container?

Read More information about Oil Innage and Outage Tape
Just 500pcs get wholesale price of 15m-50m Long Steel Tank Sounding Oil Tape Measure with Ground Wire made in China from Eastern - the best factory for distributor, importer, supplier and wholesaler.

right now.