What is A Short Steel Tape Measure
A short steel tape measure or steel measuring tape is a flexible ruler and used to measure distance.
It consists of a metal blade with linear-measurement markings, pocket protective case, stopper button, belt clip, end hook and hand stripe. It is a common measuring tool. Its design allows for a measure of great length to be easily carried in pocket or toolkit and permits one to measure around curves or corners. Today it is ubiquitous, even appearing in miniature form as a keychain fob, or novelty item.
Features of Short Self-retracting Steel Tape Measure
Certificate: EEC, MID, CE
Polyester film steel tape (lacquered steel tape or nylon coated tape blade) is more wearable in the using, and extends the life of the entire blade for corrosion resistance.
With the measurement indicators on the measurement tape, bold black scales large numbers with white or yellow background for the blade is easy to read.
With steel hook tip (also called hooked tab) at the end of the tape.
The 1-Inch blade is bend resistant and very straight even if the tape is stretched too long and too many times, not be deformed easily
Smooth and optimized internal mechanism and heat-treated spring provides long life and smooth blade recoil.
Great stopper button gets you the correct measurement.
Tape measure with stop button mechanism, making the blade mouth never broken and more durable.
Shockproof housing design. Anti-skid ABS and soft TPR case protects the inner tape from impact. Non-slip plastic and TPR with special texture, not easy to fall and be damaged.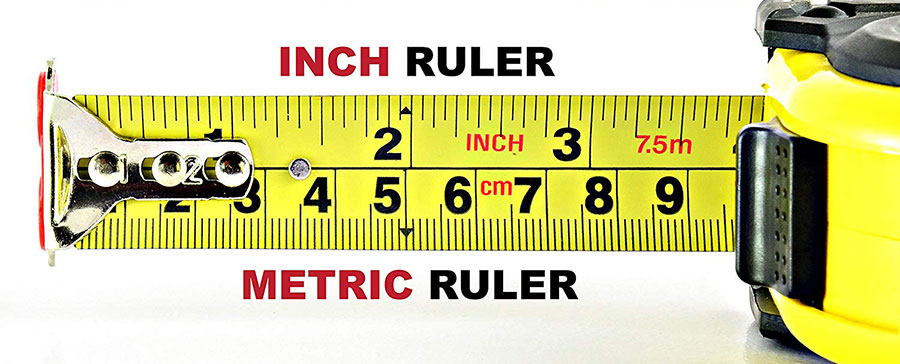 Read more information about features ...

Lengths of Self-retracting Metal Tape Measure
Tape measure length may also differ according to the profession and the environment it is used for.
Short steel measuring tapes, also known as pocket measure tapes, are mostly used in construction, home use and carpentry measurement as well as clothes making, body measurements and DIY applications. Normal specification is 1m, 2m, 3m, 3.5m, 5m, 7.5m and 10m.
In these kinds of tapes, the blade is generally encased in a rigid protective case, and they normally present a hook, a locking mechanism to keep the blade or the tape body in place without retracting, as well as a belt clip to keep them handy.
Tape measures can even be as small as a keyring, which is useful when you want to have one on you at all times, without the hassle of carrying a standard size instrument around.
Measurement System of Self-retracting Metal Tape Measure
Inch (imperial) and metric multi marking graduation on opposite side of the blade. 2 clear scales of metric and imperial is perfect for accurate measurement.
You can read clearly and quickly anytime. Provides accurate measurements for carpenters, builders, hobbyists and more.
Metric: now used in most countries, length and distance are measured in millimetres, centimetres and metres.
Imperial: a system that dates back to the Middle Ages and named after the British Empire. Length is measured in inches, feet and yards. It is still used throughout the UK, USA and Canada.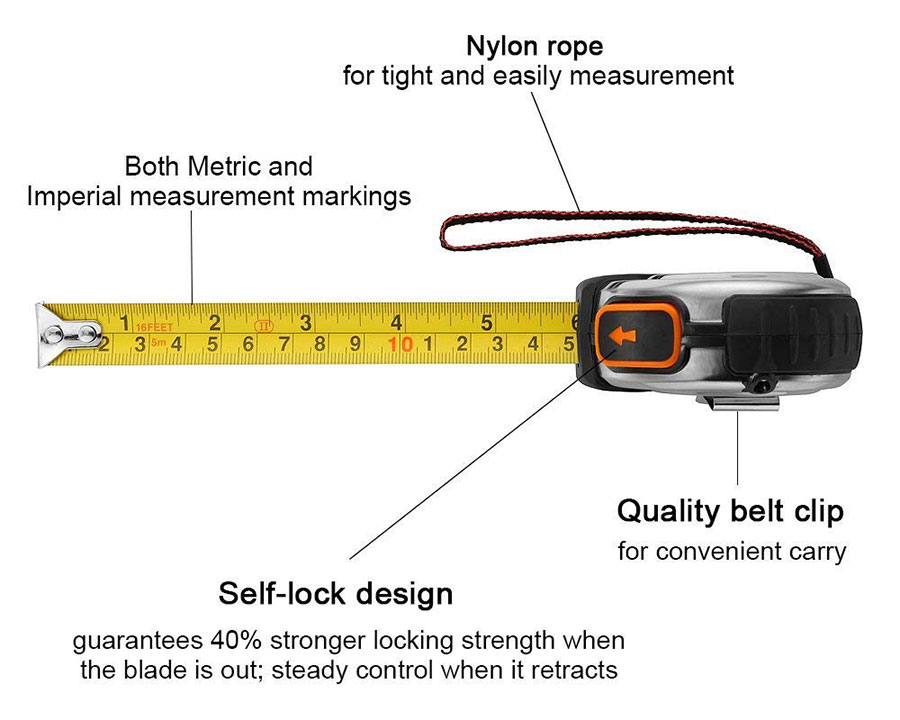 Usage and Application of Self-retracting Metal Tape Measure
Specially designed for indoor and outdoor work such as construction, home use and carpentry measurement etc.
It is an essential for everyone from homeowners and interior designers to professional handyman, carpenter, metal or wood workers and architects.
Tape Accuracy
When it comes to precision work, tape accuracy is a key factor and is determined by standards set by the European Committee, which divide the category in three classes according to their level of accuracy.

Read more information about tape accuracy ...
Precautions for Self-retracting Metal Tape Measure
Measurement must be ruled with flat straight, in order to maintain measurement accuracy.
Do not give this product to children alone