Features of Steel Measuring Tape
Polyester film steel tape, Lacquered steel tape or nylon coated tape (blade) is more wearable in the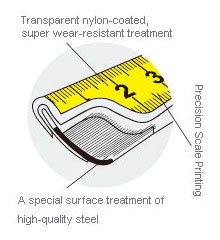 using, and extends the life of the entire blade for corrosion resistance.

With the measurement indicators on the measurement tape, bold black scales large numbers with white or yellow background for the blade is easy to read.
You have three choices of the end of the tape.
Stainless steel ring at the end of the tape.
Steel hook tip (also called hooked tab) at the end of the tape.
Powerful magnetic hook tip at the end of the tape. This tape measure can stick to any ferrous material with the powerful magnetic hook, which greatly enhances the stability of the blade especially when measuring a really long distance. And it is also strong enough to double the tape as a magnetic pick up tool, suitable for engineer, architect, etc.
| | | |
| --- | --- | --- |
| | | |
| Black Plated Hook Tip | Electroplated Hook Tip | Magnetic Hook Tip |

High precision. Class I, Class II accuracy for low negative tolerance.

The 1-Inch blade is bend resistant and very straight even if the tape is stretched too long and too many times, not be deformed easily

Heat-treated spring provides long life and smooth blade recoil. Smooth and optimized internal mechanism makes self-retracting metal tape blade smooth rewind.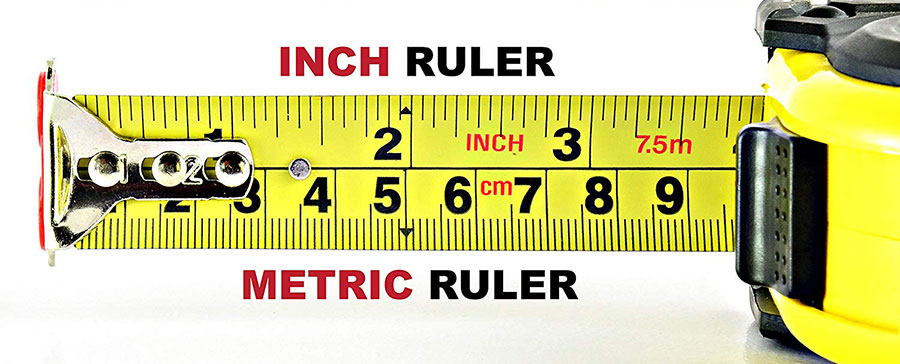 Great stopper button design gets you the correct measurement.
Automatic blade lock, easy to work thumb button and push button.
One-touch side button holds position.
Two stops is much more convenience

Tape measure with stop button mechanism, making the blade mouth never broken and more durable.

Shockproof housing design
Anti-skid ABS and soft TPR coated case protects the inner tape from impact. Top grade impact-resistant ABS case that is conveniently shock-absorbent. Good wear-resistant cover.
Strong belt clip, very easy access. The tape measure can be easily carried on waist or in your pocket with the sturdy belt clip.
Non-slip plastic and rubber with special texture, not easy to fall and be damaged.
With wrist strap. Strong comfortable wrist strap can wear around your wrist to avoid dropping the measuring tape.

Certificate: EEC, MID, CE