Home
-
Products
-
Distance Measuring Wheel
318mm Mechanical Type Distance Measuring Wheel
Item: DMW-05
Product Name: 318mm Mechanical Type Distance Measuring Wheel
Wheel diameter 318mm mechanical type distance measuring wheel.
Counter Limited Min./Max:5 digits 10cm-9999m
The distance masuring wheel is a real time-saver when laying out distribution systems, line and main extensions, underground lines, manhole locations, and inventory and road work. The chassis is constructed of aluminum for all weather use. Flat rubber tires ensure accurate rolling with no slip. A spring operated trigger release plumber brake keeps the wheel locked when not in use.
Counter Limited Min./Max: 5 digits 10cm-9999m
Wheel size: Dia. 320mm (12")
Folding handle: Folded: 51cm, Long expanded: 103cm
Trigger Brake: Ergonomic Pistol Designde Grip.
Reset knob: In the counter.
Kickstand: Without.
Carry bag: Optional
One piece per carry bag and in one color box 4pcs per carton 62.5x34.5x49.5cm 10/9kgs per carton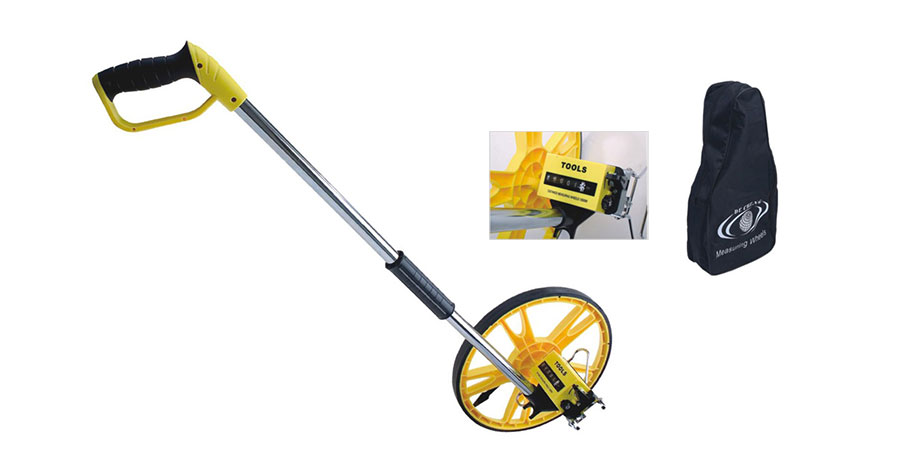 Features of 318mm Mechanical Type Distance Measuring Wheel
Enable you to measure by yourself.
The measuring length records up to 9999m, you are not limited to the length of the tape.
Easy to measure curved, horizontal and vertical surface.
The folding aluminum tubes pull straight, locking.
Let zero point indicator precisely to measuring poiny, then press the reset knob to make sure it ready.
Light form the round to end speculation, braking read figures.
Just 200pcs get wholesale price of 318mm Mechanical Type Distance Measuring Wheel made in China from Eastern - the best factory for distributor, importer, supplier and wholesaler.

right now.