Home
-
Products
-
BIGGLUGG Power Tool Holder
Power Tool Plastic Ladder Holder
Item: LADDER LUGG LL1B
Product Name: Power Tool Plastic Ladder Holder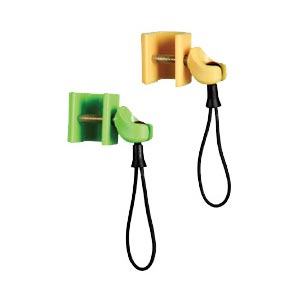 Introduction
The newest addition to the BiggLugg line is the LadderLugg.
It came to me when I was helping the finishcarpenter in my living room put up a crown molding system. We both had pneumatic brad nail guns, I with a Porter Cable and he with a Stanley Bostitch. As you knowthese tools have hoses leading to the compressor and we naturally laid the guns on the top of the 6'stepladders when we went to cut a piece of molding thinking they were very secure as long as they weren't knocked off. But this implies that because we believed they were safe from falling that they really were. Not a chance my friend. On one of my early trips back to the ladder, each of us with an end in hand I tripped on the drop cloth and kicked the hose at the base of the ladder and knocked the gun onto my beautiful 100 year old pine plank floor and put a 1/2" gouge in the wood which can't really be fixed only filled and will never look the same again. The truth of the matter is that I couldn't believe how stupid and careless I was and again I created more work for myself and not the kind that makes you feel good about when accomplished.

Carries most: nail guns, cordless drills & driver, saws. caulk guns, tool buckets, paint buckets…almost anything!!!

It was at that moment that I knew I absolutely had to design a holder for tools to work along with BiggLugg 2 to solve this really common problem of what to do with the big tools that we have become accustomed to using on ladders. I needed a universal ladder holder.

I believe LadderLugg is that universal holder.
Specialty
It's a modified "C" clamp with a cup exactly the same as the cup on the BL2 belt clip. Once you decide at what height your going to be working you position the clip so that the cup is on the outer side of the ladder and simply tighten by turning the cup until it is locked down. Next you carry your tool to that height with BL2 and place the ball in the cup and hang your tool on it.

It's simple safe and what a relief to know that the tool is not going to fall and damage itself or the floor upon which the ladder is standing or your partner walking underneath you.
Our Goal
I think all people that climb ladders to accomplish a task, whether cleaning leaves from a gutter, painting trim or nailing up siding will enjoy this tool and we at BiggLugg hope it will become a standard tool in your tool box and make working easier and safer. Making simple devices to hold lots of things and remove frustration from the workplace. That's our goal.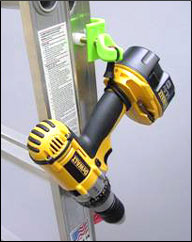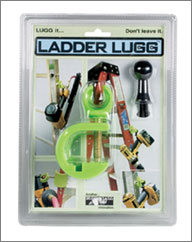 Just 2000pcs get wholesale price of Power Tool Plastic Ladder Holder made in China from Eastern - the best factory for distributor, importer, supplier and wholesaler.

right now.