Home
-
Products
-
BIGGLUGG Power Tool Holder
Electric Power Tool Holder With Metal Clip Belt Hook
Item: BIGGLUGG (BL-1)
Product Name: Electric Power Tool Holder With Metal Clip Belt Hook
When people work on the job site,they use many heavy tools,it is very dangerous when working on ladders,climbing up and down and droping them.with Bigglugg, you can carry almost tools without using your hands. Especially,all your tools will stay clean and last for long time.

Features of Electric Power Tool Holder With Metal Clip Belt
The hook (hanger) is fully adjustable for almost any hand held power tool, means it can be shaped for different power tools.
Use to hold cordless drills, nailers, staplers, nail guns and reciprocating saws, and more
Fits any tool belt or waistbelt and clips on and off in seconds
Swivels out of the way against your hip when not in use
Durable all metal construction
the tool swivels on your belt, so tools continue to hang down even when you bend over or sit
Belt hook keeps your tools or supplies within arm reach at all times.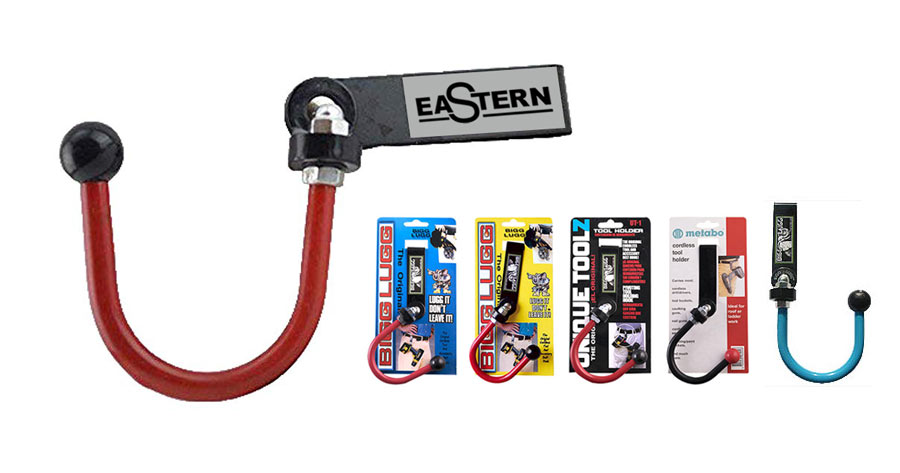 The most convenient way to carry power tools such as Cordless Drivers, saws.

Instead of carrying your Cordless Driver with your hands on the jobsite or putting it down and picking it up during work, you can just hang it on BIGGLUGG.

BIGGLUGG is very simple to use, just clip it on to carpenter's belt or your regular belt.

Carries most: nail guns, cordless drills & driver, saws. caulk guns, tool buckets, paint buckets…almost anything!!!

It's that simple. Now, you don't have to worry about putting it down on the floor and dropping it during work. It will always be next to your waist at your convenience and your tools will last for very long time.
What Is Electric Power Tool Holder ( Tool Hook or Tool Hanger )

The electric power tool holder, also called tool hook or tool hanger, might be a deceptively simple-looking device, but it's a breakthrough accessory on the job site. Anyone who's ever dropped a cordless drill or a nail gun off the top of a ladder or scaffolding is sure to appreciate the power tool's effectiveness.

Unlike standard holsters, the tool holder ( tool hook or tool hanger ) swivels on worker's belt, so tools continue to hang down even when you bend over or sit, they don't slip out the way they can with holsters. It also folds flat to your belt when not in use, which helps keep it from hooking or getting caught. The tool clips to any belt, though it fastens most securely to a 2-inch belt (on wide belts, the clasp can't pinch shut).

We use ours mainly for cordless drills and nailers, but it also works well for nail guns and reciprocating saws. While the holder ( tool hook or tool hanger ) might not change your life, it will make your workday a lot easier.

Question and Answer

Is the hook metal or plastic?

The clip is metal that clips on to your belt, the hook is very strong steel coated with rubber. it is strong enough to hold its hook shape with power tool.

Can the tool hook be bent or shaped?

The hook can be bent near closed and stay closed.


Working & Walking


Climbing & Ladders
Just 2000pcs get wholesale price of Electric Power Tool Holder With Metal Clip Belt Hook made in China from Eastern - the best factory for distributor, importer, supplier and wholesaler.

right now.